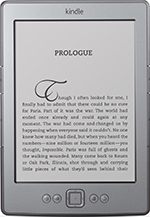 Kindle
Select
Device - 2012

Searching for more content…
Contents:
The sparrow / Jason Mott
The choice / Jason Mott
The first / Jason Mott
Screenwriting for dummies / Laura Schellhardt
Do you believe in magic? : the sense and nonsense of alternative medicine / Paul A. Offit
The pilot's wife / Anita Shreve
The first confessor / Terry Goodkind
Playing for keeps / Kathryn Shay
It had to be you / Kathryn Shay
Sea of lost love / Santa Montefiore
Beyond the scent of olives / Alice Marcus Salovy
Patricide: a novella / Joyce Carol Oates
Newsjacking: how to inject your ideas into a breaking news story and generate tons of media coverage / David Meerman Scott
Deep down / Lee Child
Darth Plagueis / James Lucano
Better than before / Kathryn Shay
Irish country wedding / Patrick Taylor
Irish country courtship / Patrick Taylor
Irish country Christmas / Patrick Taylor
A wanted man / Lee Child
Mind and cosmos: why the materialist neo-Darwinian conception of nature is almost certainly false / Thomas Nagel
Jack and kill / Diane Capri
Jack in a box / Diane Capri
Don't know Jack / Diane Capri
The whole enchilada / Diane Mott Davidson
El cuaderno de Maya / Isabel Allende
Some day / Shemi Zarhin
Jesse Jackson, Jr.: from promise to scandal: the journey of a Chicago political scion
To make good again / David Eingorn
Just in time / Kathryn Shay
Perfect timing / Kathyrn Shay
Another time / Kathryn Shay
Ender's game / Orson Scott Card
First confessor / Terry Goodkind
Four, the transfer / Veronica Roth
Free four / Veronica Roth
World of Divergent / Veronica Roth
I triggered her bully / Cindy Caponera
Last voyage of the Valentina / Santa Montefiore
Right weight, right mind / Robert Kegan
Sleep donation / Karen Russell
Act of war / Brad Thor
Strangers / Dean Koontz
Relentless / Dean Koontz
Dress your marines in white / Emmy Laybourne
Jake and the other girl / Emmy Laybourne
What Mario Scietto says / Emmy Laybourne
Red Storm rising / Tom Clancy
Fire inside (Hidden Cove book 7)/ Kathryn Shay
Too Jewish : the next generation / Patty Friedmann
Can't forgive : my 20-year battle with OJ Simpson / Kim Goldman
The Curious case of the copper corpse / C. Alan Bradley
Nate in Venice / Richard Russo
Ten doubles: a novel of the sixties / Gary B. Helms
Coming to terms with Wall Street: an insider's guide to investment / Gary B. Helms
Infinite jest / David Foster Wallce
Three slices/ Kevin Hearne
Secrets of a kept woman 2 / Shani Greene-Dowdell
Secrets of kept woman 3: you can't help who you love / Shani Greene-Dowdell
An alternative history of mankind / John Ventre
Honeymoon in Paris / Jojo Moyes
Jews vs. aliens / Naomi Alderman and Rosanne Rabinowitz
Perfectly incorrect / Terry Marselle
Aflame / Penelope Douglas
Imagining Diana / Diane Clehane
Having you is never enough / E.L. todd
Sweeter than ever / Belle Andre
Humans are not from earth / Ellis Silver
In memory of Charlie K.: a Sweidhs detective novel / Dag Ohrlund
Pulse of perseverance: three black doctors on their journey to success / Pierre Johnson
Collectors: a His Dark materials story / Philip Pullman
PaidaLajin self-healing / Hongchi Xiao
We belong together / E.L. Todd
You have my heart / E. L. Todd
White boy shuffle / Paul Beatty
Slumberland / Paul Beatty
Tuff / Paul Beatty
Snapshot / Brandon Sanderson
Fall of giants / Ken Follett
Winter of the world / Ken Follett
Edge of eternity / Ken Follett
Listen to the moon / Michael Morpurgo
Branch Call Number:
KINDLE : SELECT
Characteristics:
1 reader + 1 power cord
---
Opinion
From the critics
---
Community Activity
Notices
Add Notices
There are no notices for this title yet.
Quotes
Add a Quote
There are no quotes for this title yet.